Yesterday, whilst sitting in the Celtic Sports Bar after the celebrations, I caught sight of BBC Sport Scotland's brief summary of the Ibrox game whilst I was checking their website to see what had happened in the late flashpoint at Tynecastle.
This is what their website summary said.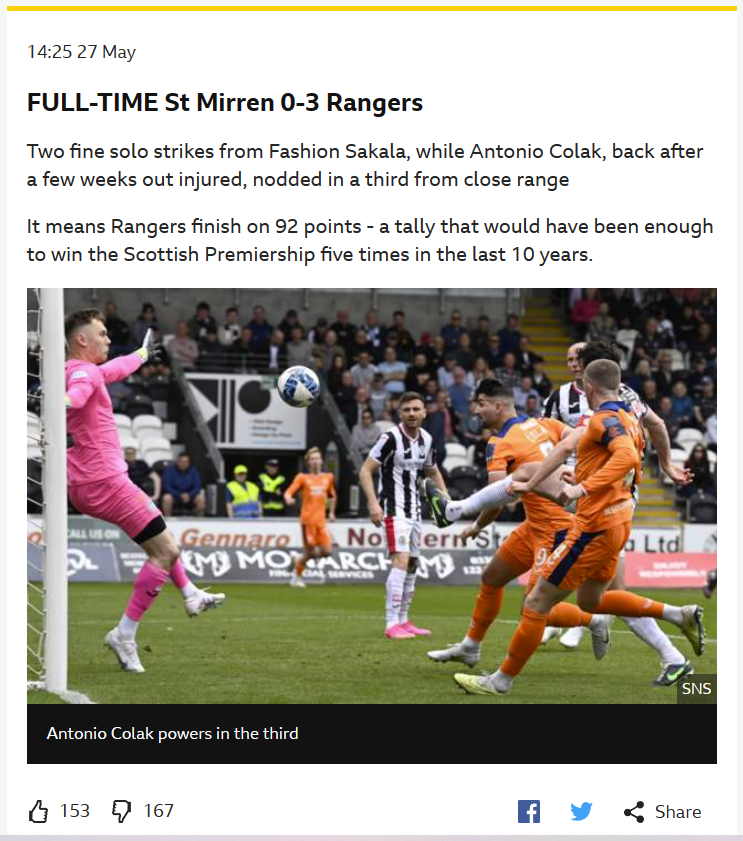 "Two fine solo strikes from Fashion Sakala, while Antonio Colak, back after a few weeks out injured, nodded in a third from close range. It means Rangers finish on 92 points – a tally that would have been enough to win the Scottish Premiership five times in the last 10 years."
Just when you think our media could not be any more pathetic, along then comes something even worse, and this from The Scotsman.
"Michael Beale succeeds where predecessor failed as Rangers top Celtic for points during his tenure" reads the screaming headline on a piece by resident Sevconut Graeme McPherson. It might be the most ridiculous thing I've read all weekend, and I include Hugh Keevins latest piece of vomiting inducing cringe amongst that.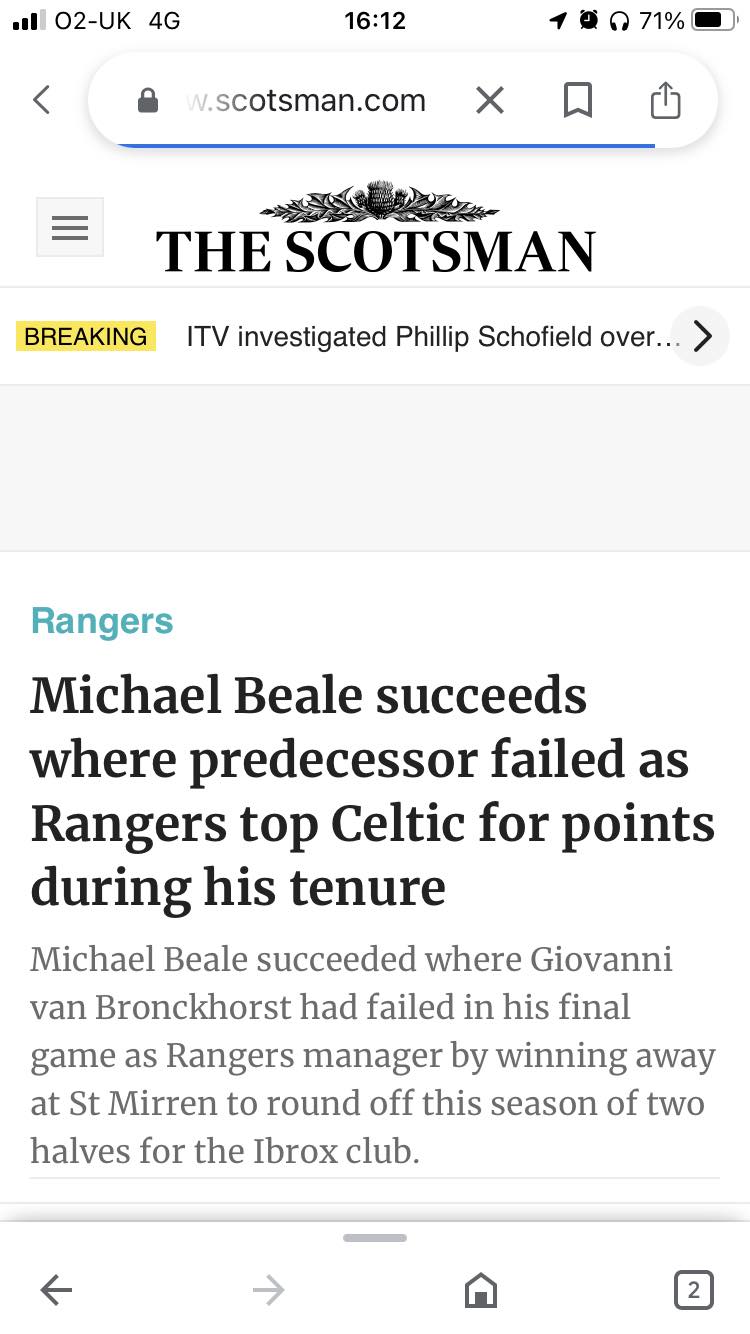 We have all sorts of these clowns in our media, writing nonsense like this, trying to make diamonds out of Ibrox's dog-shit season. We switched off after the title was won.
The proof that we did that was obvious yesterday when we showed up for business. The Mooch took over a team that was nine points behind; they, and he, have been playing largely without pressure all season, except in the cups when it crushed them.
There is a special kind of pressure when everyone is "back to zero" as he put it yesterday.
He's going to find that out next year. We'll see how he copes with it.
The celebrations have also had a seriously negative slant put on them by news of arrests.
There is nothing about whether Celtic fans were the ones arrested and nothing about who the people hospitalised were, or who put them in hospital … minor matters like that, which might put things in some kind of context, are unimportant to our media.
The media thinks we're stupid and that we don't understand that the Ibrox club were playing in Paisley, not that far away, and many of their fans would have been heading back into Glasgow as the party was in full swing, so who's to say who caused the trouble we're hearing about? And even if this was drunken Celtic fans … ten arrests out of many, many, many thousands is not some sort of earth shattering scandal, although the press would love to paint it as one.
There are online reports of other arrests at the weekend, which I can't confirm.
One of the reasons you might not get much commentary on it is that this was to do with an orange parade, and our media goes out of its way not to comment on what they cost the taxpayer, the NHS and Police Scotland every year … amazing how civic minded these same journalists get about Celtic fans causing a little bit of litter and the odd arrest.
Anything to put a negative slant on what we celebrated yesterday. The party next weekend is going to eclipse it though, and the will, again, attempt to stick their own ugly narrative on events.
It will make no difference to us … our club is in a good place and we're entitled to celebrate that fact.
But it is shocking how often the media tries to do this to us.