There was a lot to smile about last night watching the Ibrox club desperately flail in the Scottish Cup defeat against St Johnstone, from the goalkeeper coming up to head home the equaliser (I don't care what anyone says, he got the goal!) to his heroics in the penalty shoot-out.
But for me the real fun after these sort of events over there always comes when I dip a toe into the sewer of Sevco social media, to sup at the wellspring of their pain.
As the advertisement really ought to say, "Schadenfreude: Probably The Best Lager In The World."
Social media can be a trip on night's like last night.
I'm assuming you've all see the hilarious reactions of Ibrox's fan commentators?
If not, I'll helpfully provide it for you, because it's worth a couple of minutes of your time! He's right you know; there are some moments that make football great … just not the particular moment he was talking about!
Pain pic.twitter.com/JPYvVCN1Iu

— Tam Sellics son (@TamsellicsonIII) April 25, 2021
I mean, what better OMFG moment can you get in the world than seeing a keeper come up for a corner in the last minute of injury time in extra time and getting the equaliser across the line?
For him to then go on to be the hero of the shoot-out … that's football, all right, and whilst I won't even pretend to be a neutral I know that if I was I like to think I'd still have been jumping up and down for him in delight when he palmed away Roofe's spot kick.
Social media was filled with great stuff last night, but one particular tweet broke me up, and I have to admit it.
Michael Stewart was either commiserating them or having a dig when he posted about how difficult it is for a club to maintain the consistency necessary to win knockout cups – because of course were exceptional at it until recently – but one of the replies to his tweet was what brought the house down for me and had me busting a gut.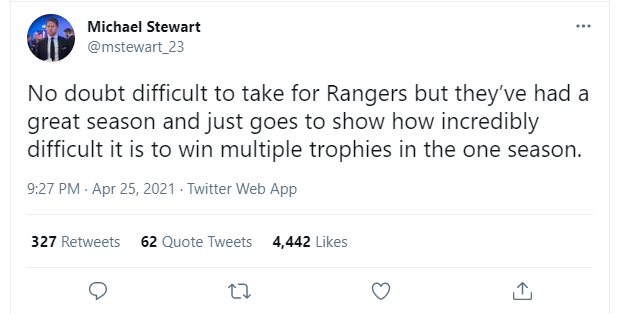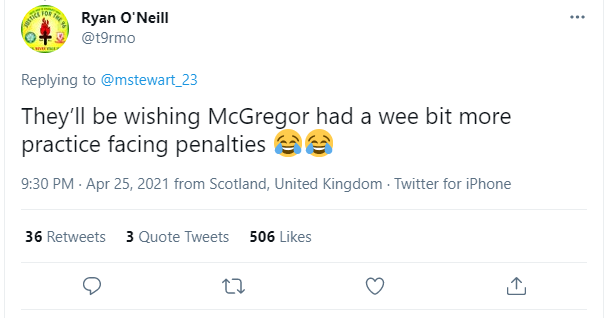 Even thinking about Eddie's penalty miss last week doesn't make me find that less funny; indeed, you could say that it's a pity our players don't have more practice at penalties as the counterpoint to anybody who brings that up.
This has been an exceptionally "fortunate" season for the Ibrox club where refereeing decisions are concerned.
What I do know is that St Johnstone scored a penalty against them during the week and that McGregor didn't save a single one in the shoot-out last night.
So yeah, I'd say he's out of practice.
They can thank their pals in black for it.
The irony is too delicious not to enjoy today.