Last night, I was sent a truly astonishing screengrab; a headline on an Ibrox supporter website which suggested that their fans "should riot" if they make it to Seville because they didn't get as many tickets as they'd like.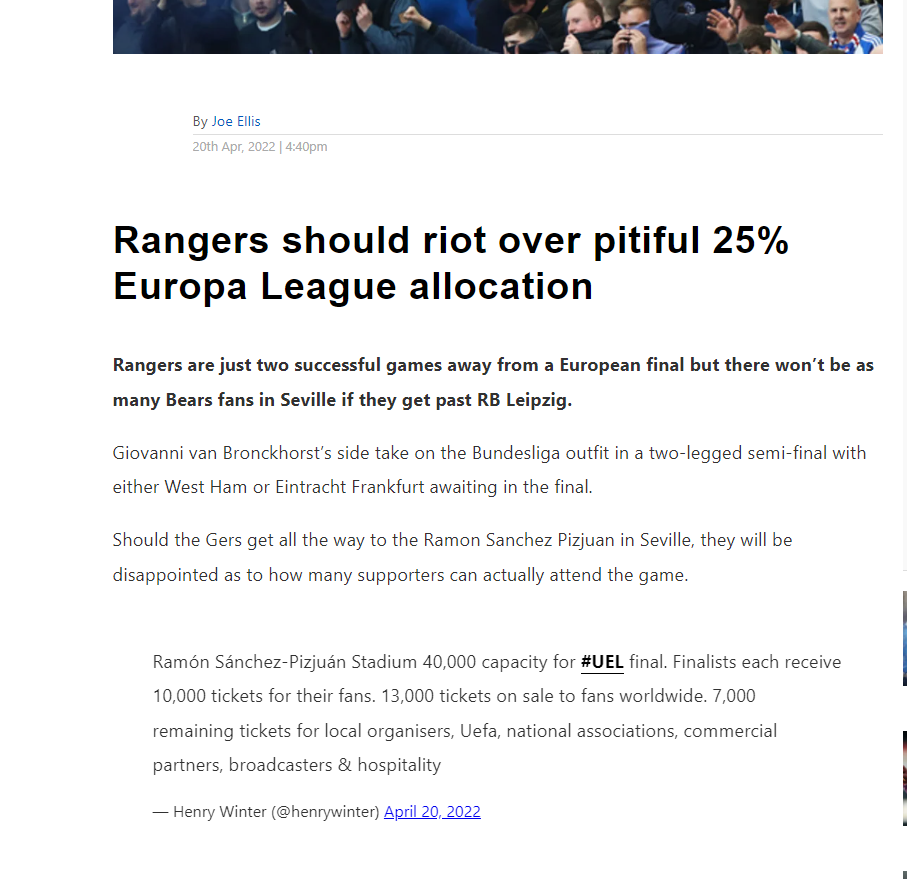 Forget the fact that they're not even in the final yet; based on this kind of behaviour, that city should be bracing itself.
Ibrox fans have rioted at two European finals already.
Rangers were the only club to get its European trophy inside a dressing room.
Manchester was a deeply shaming episode for them and for the reputation of our game. It is the most atrocious thing associated with them until we learned about EBT's. The scenes from that disgrace will live long in the memory of all who witnessed them.
Have these Peepul not done enough damage to Scottish football's reputation already this season? Between sectarian and racist singing and bottles being launched at Celtic players and officials?
Are they really so keen to export that lawlessness abroad?
Seville is a beautiful place filled with wonderful people, and civic society there was so thrilled with the exemplary behaviour of the Celtic support that the city wanted to host an annual convention of our fans. Its civic leaders visited Glasgow to thank us all and to try and sell their city as a tourist spot.
I cannot even imagine what they will make of the Peepul should they be unlucky enough to need to host them. Should it be an Ibrox-West Ham final the mayhem could be off the scale, and there must be people dreading that deep in their souls.
In light of that, and in light of past history, the irresponsibility of that headline is staggering.
The entitlement wafts off the whole article. So does the madness.
It reeks of the same mind-set which sparked the riots in Manchester; a big screen didn't work, so of course the Peepul were entitled to vent their fury and attack the police.
Whoever wrote that headline should be ashamed.
Theirs is a support which does not need such encouragement. I am astounded by that, absolutely astounded.
They are a different breed, they really are.