Doubts are horrible things. Once the seed of them is planted they can tend to grow out of your control.
So it is with many of our fans and Joe Hart. Our defence has shipped a lot of goals of late, and there's debate over Carter Vickers being essential to our functioning as a team … but more and more this has focussed attention on Joe Hart.
Big Joe is still a very good keeper on his day. But what does that mean anymore? On his day? How many of those days does Joe Hart have?
One of the problems with being a Celtic goalkeeper is that you are called into action only very seldom during a big game. You need to focussed and concentrating when those moments come, and sometimes he gives the impression of being caught sleeping.
There are doubts over his ability to command a penalty area now. He can sometimes seem weak in stopping shots that a good keeper really should be saving. Does all this add up to trouble?
Does all of this mean that we have an issue here that needs to be resolved?
Any club in our position has only a limited transfer budget to spend.
We need to prioritise. But after recent shaky displays, the question is more and more being asked; is this now one of our priorities?
Or can Hart get us through another campaign?
His contract is up next summer so at that point the decision really will have to be made one way or the other.
I suspect that The manager will have made up his own mind on that already.
I know we all like Joe Hart, and we can all see that he completely gets Celtic and buys right into the culture and ethos of the club. He loves the fans, and being part of this team.
But we have to be ruthless because football itself is ruthless and unforgiving. There is a cold-blooded calculation to be made here on Joe Hart … and Ange will have to make it.
Over the course of the summer, it will be interesting to see what we do here.
Is Joe Hart Still Celtic's Best Bet Between The Sticks?
Yes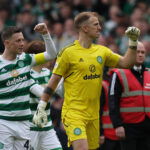 No