When Mark Lawwell was hired, a lot of people assumed that because he worked at the City Group that he was part of the global elite of scouting and development.
Most of them don't even know what his role at The City Group was.
They perceived that because he was there, and they are an elite club, that he was of the required standard for Celtic, and might even have been a coup we were lucky enough to be able to pull off because of his family connection to the club.
Other people said that it was only his family connection which got him hired in the first place.
So, he's from the City Group. Big deal.
The actual job he did there is the subject of some dispute.
Those people looked at his hiring and saw only his second name, and concluded that with Lawwell Snr having lost his grip on the club by his removal from the CEO position that this was a way of putting in place someone at the football department he could operate by remote control.
Now, those are two conflicting views and both of them can't be true at the same time.
I personally lean more towards the second than the first.
I said at the time that it was "a ghastly indictment of our internal decision-making process" and scorned the idea that we had conducted a search for the best man. I perceived it as another appointment to shore up the positions of those already in the boardroom and who've failed to provide an overarching strategy at Celtic for far too long.
It is important to recognise how you are perceived.
When people think you're an arrogant clown based on what they've heard from others, it's best that when you first meet them that you don't act like an arrogant clown. Because most people will never give that a second look, they will never see you in any other way whether it's true or not. They started out with a negative perception, and the first thing you did was confirmed that for them. End of.
Celtic fans who supported the Lawwell appointment needed to see something that confirmed their perception of the man.
Those who didn't support it were waiting to see something that confirmed theirs.
Who has had the most success with that so far? What is the perception of that appointment today? Are the doubters being won over … or are those who supported it starting to sway in the other direction? I think we all know which way the wind's blowing.
Is it fair? Excuse me if I indulge in some gentle laughter at the question.
Because that could not matter less. If people believe it then it might as well be true, because the effects on morale and confidence in the system are exactly the same.
When a lot of our fans look at this transfer window, they see a manager forced to tolerate a policy which takes us to a point, rolls us backwards and then inches us forward until it rolls us back again.
They see a policy which puts money in the bank ahead of the team the manager has to work with, a policy which many believe is based on staying just one step ahead of any domestic challenger, but which leaves us weak and easy pickings for top sides.
Have you ever seen one of those pictures which is made up of two images, one in white and one in black?
There is a famous one of what is either white birds on a black background or black birds on a white one. One image cannot exist without the other, but the observer can only ever properly see one image at a time.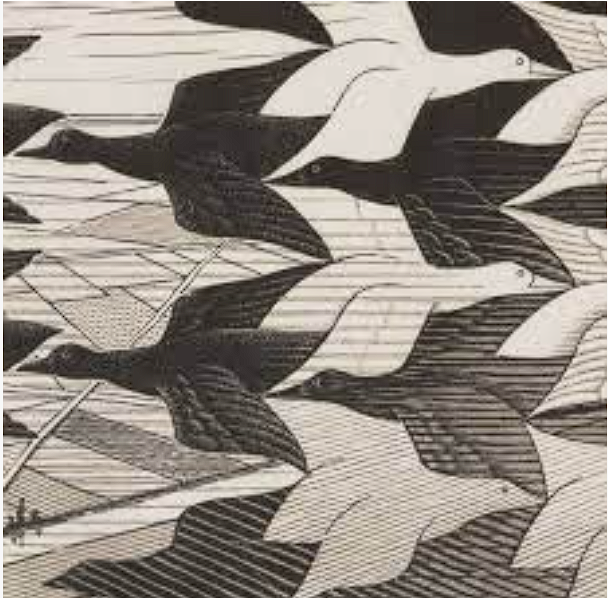 Whether Peter Lawwell hired his son because that's what father's sometimes do, and Celtic promoted Michael Nicholson as CEO because he was Lawwell's number two or if these guys were actually qualified and capable will be entirely up to the way that you view this.
But people who see white birds on a black background can see that because that pattern is there, whereas those who see black birds on a white one see that because the pattern is there too … and what no-one can argue successfully is that this was the best we could get.
Who cares if they are good at their jobs?
They will never be able to do those jobs well enough to satisfy some of our fans, and the board may loathe that thinking but it is their own damned fault that they are judged not as good custodians but as people who are basically leeching off Celtic and carving it up for themselves because that picture exists if you want to look at it that way.
If they wanted the person in the CEO's job to be judged in a balanced, rational and fair-minded manner instead of being looked at as another sham appointment, they should have conducted their search in the light of day and hired an outsider to come in with fresh ideas.
An internal appointment screamed of arrogance and complacency. Michael Nicholson could have been an undiscovered gem and he'd never have got a fair hearing because he was seen as Lawwell's man.
I like the guy. I think he was a damned good job working with Ange, but that was before the "head of scouting" was added to the mix with the name Lawwell attached, and before the guy who used to be his boss came back as the chairman, and is therefore his boss again. Nicholson might well be the biggest victim of this gruesome bit of inside baseball.
Likewise, if this club wanted the head of scouting to be judged for his qualifications and the work he did rather than on his second name, they had the whole world they could have hired rather than the guy who had that second name.
Does it matter if he was the genius behind the Ange signings if half our support doesn't actually believe that?
He will be judged on his failures, that's for sure, because the section of our support which abhors his hiring is waiting for something to blame on him. Fair? If this board wanted fair they should have hired somebody else.
These people, from Desmond on down, have created a perception of Celtic as a club run by a tiny clique which is determined to project its own power above and beyond anything else, a club run by people who do believe themselves responsible for all our successes and see the players and even the manager as mere underlings doing their own bidding.
Who cares if its true?
If it looks like and smells like it do we really need to taste it to know what it is?
This stinks and it looks like shit and if this uninspiring transfer window ends without the significant strengthening of this playing squad people are going to conclude that we're back to where we were when Rodgers walked out the first time, and whether that's true or not when you see the same names involved in the process, that's how it'll be perceived.
They have ten days. That's the window to alter the perception.
It's already too late to defend our treble, and already they're being blamed for that … they have no idea how precarious their positions just got. This club was in a commanding position and if most of the people in our support believe that we've been allowed to start drifting backwards instead of going forward they will know who to blame.
They won't care what's true and what's not, we don't know what goes on inside the club so we look at the big picture and we see a single image, and that single image couldn't exist if it wasn't there. It's right there in black and white, even if the picture's actually white and black. The people running our club allowed that perception to exist. They brought it into being.
Come what may they are going to have to own that.