Gary Keown is notorious for the spiteful way he writes about our club.
He is, to be frank, a bitter and angry little man. And today he's angrier than he's been in a long time. Except that his bile is not pouring forth on us, but on the manager of his own club instead. It is an astonishingly aggressive piece.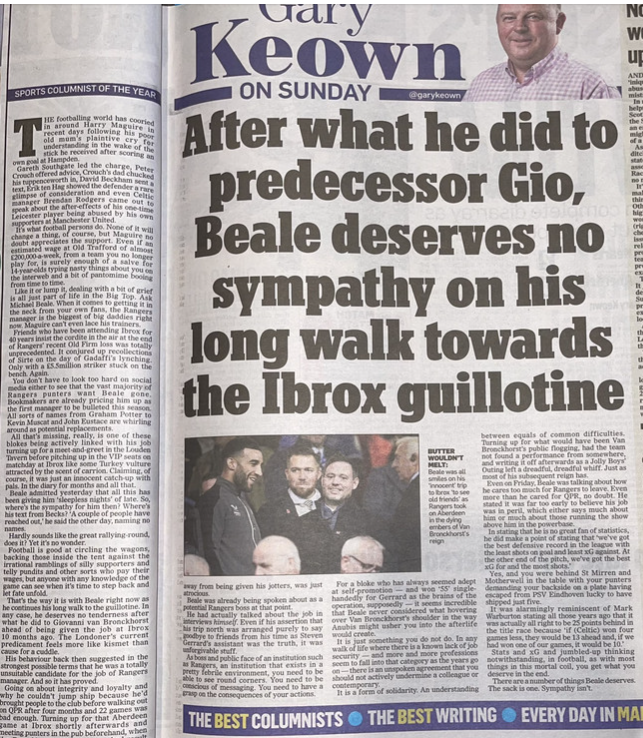 If I had written it I'd have been quite proud.
But that's the point. I'm a Celtic blogger. I am supposed to scorn the manager at Ibrox. I find it amazing that a mainstream journalist would use his column to write something so vicious. He has basically said that Beale deserves everything that he gets and that nobody should have the least bit of sympathy with him in his current struggles.
I happen to agree. The Mooch is not a nice guy. He's a selfish man and that comes across often. But Ibrox has had unpleasant people at the helm before; Dave King was much easier to dislike than the current manager is. I thought Gerrard gave off highly unpleasant vibes a lot of the time. Their club attracts these people like flies buzzing around a turd.
I cannot help but think that Keown's fury has erupted like this because on Friday The Mooch flatly refused to even countenance the idea of resigning. Nobody in his position would resign, especially as the totality of his unfitness makes it clear that Ibrox will be the biggest job he ever has in the game. That presents the fan-base with the nightmare scenario.
That presents the club with an even bigger headache.
And although I doubt there's been an actual co-ordination between the club and some of the hacks, although I wouldn't put it past anyone involved, it reads very much like there's now a consensus that he has to go and it would be better if life was made uncomfortable enough for him that he might view resigning as preferable to hanging around.
I mean, the level of abuse he's getting is nothing like I've ever seen before, even from that deranged support of theirs. He is at the centre of a hurricane and is being pummelled from all sides, and although I wholeheartedly agree that he's unworthy of sympathy having fatally undermined his predecessor as well as shamelessly claiming Gerrard's title as his own, what neither Keown or anyone else wants to say is surely just as obvious.
The club itself bears as much responsibility as he does.
The club itself allowed him to do that to the previous manager.
The club itself invited him to the director's box and very obviously held talks with him whilst Van Bronckhorst was still in the job. They have pushed the line that he was the real brains behind Gerrard.
And although the current directors might not have been responsible for the hiring of this guy, or giving him that 2026 contract, they have backed him 100% with more money than was sensible in spite of some very obvious problems with his approach.
But the media voices raised against him aren't interested in that, because that would challenge the story they are pushing, which is that The Mooch is the last remaining link to the Bad Old Days and that once he's gone everything will be alright.
He's only one of their problems and not even the worst one.